Click On Any Photo To See Larger Pop Up View
Stephanie Richards Gulf Shores Family Beach Portraits
Here we have Stephanie Richards Gulf Shores Family Beach Portraits this was a family photo session not on the beach. We shot across the street from the beach in an open field area and by some buildings.
Stephanie and her husband Eric and 3 kids had us photograph them it was a lot of fun for everyone. We ended up with some super nice photos of them. We shot with two different lenses one wide angle for the group photos and our special zoom len. The zoom produces the great bokeh blurred backgrounds for single person photos great for the kids.
Photo With Great Bokeh
Bokeh is the name of the background look or effect behind a subject that is blurred. New for 2018 we are now shooting with two different lenses for most family beach portraits sessions so we can offer you the best of both looks for your Gulf Shores Family Beach Portraits.
We now have another website that features a lot of family and children photography not shot on the beach it is focused on in-land family sessions see our new site here. 
We are more than just a beach photographer we off full photography services for all your family photo needs including weddings and high school senior photography and children photography.
See our beach portrait packages here we have many packages to pick from based on what your needs are. Packages included Families, Extended family sessions, Family Reunions, High School Seniors, Children photo sessions.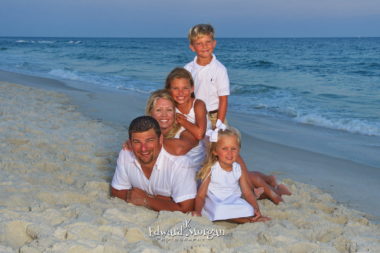 We offer Orange Beach Family Portraits 7 days a week most of the year this includes sunset sessions or…