Click On Any Photo To See Larger Pop Up View
Perdido Key Family Beach Photographer
We love Perdido Key, We are your Florida Perdido Key Family Beach Photographer It's beautiful white sandy beaches and beautiful shimmering water. We are Ed and Donna Morgan of My Family Beach Portraits.We have photographed Family Beach portraits for 15 years. Ed is a professional photographer with 27 years of experience. He photographs using natural light but uses advanced off-camera- lighting when necessary.
We are super excited about booking our 2018 family beach portraits in Perdido Key, Florida. Experience the treasured heirloom family beach portraits that are high quality at an affordable price.We offer the best High-Resolution images. Ed Morgan is not only an award-winning beach photographer, He created a photoshop program that let photographers to design portrait and wedding albums. He sold this to photographers all over the world.
Ed is creative and innovative producing family beach heirlooms that all your family and friends will envy. Our family beach client list grows everywhere we go, We have photographed families on our vacations in different areas. Ed  Morgan can photograph your family at your Perdido Key beach rental house, your Perdido key beach rental condo, at the Perdido  State Park, At Perdido key beach accesses, The locations are endless and so are our Perdido, Florida sunsets. We are sorry but we do not offer sun raise sessions … Ed is just going to bed from editing our amazing Perdido Key, Pensacola, Navarre Florida Beach sessions.  Our turn around time is 24-48 hours for you to view and start sharing your amazing Perdido Key, Florida beach portraits.
We look forward to meeting and photographing your family on the beach in Perdido Key, Florida. Please fill out the contact us form on our website at myfamilybeachportraits.com or Give Donna a call at (352) 232-9112 to schedule your Perdido Key family beach session.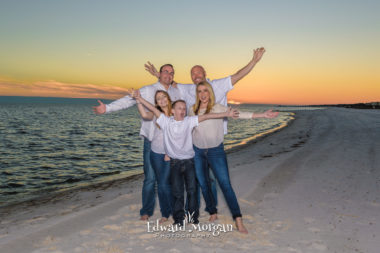 Amazing Fort Morgan family beach portraits at sunset a fun time at the beach for you and your…