Click On Any Photo To See Larger Pop Up View
Orange Beach Family Beach Photos
Orange Beach Family Beach Photos a fun lifestyle portrait session on the beach with you and your family. Natural light and Flash when needed for creamy backgrounds and outstanding photos of your family. Many photos of groups and single person photos and smaller groupings. Everything you want and expect for your family beach photos in one package that includes all the edited images with print rights so you can make your own prints.
Fun in the sun as you have your Orange beach family beach portraits done on the white sandy beach by the emerald green water and blue skies or at sunset with the orange sun setting over the water.
We have photographed hundreds of families on the Alabama coast we also offer high school senior sessions, Bridal sessions and Engagement sessions. My Family beach portraits are your Alabama beach photography service for all your photo needs.
We offer photo sessions 7 days a week most of the year. All our sessions are shot by professional photographer Edward Morgan we do not send out other photographers to shoot for us.
Call today to book and reserve you date for you Orange Beach Family Beach Photos.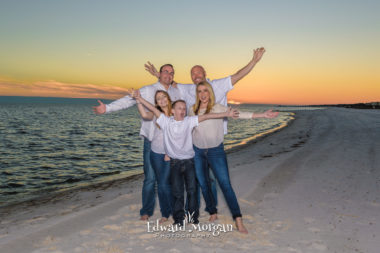 Amazing Fort Morgan family beach portraits at sunset a fun time at the beach for you and your…