Click On Any Photo To See Larger Pop Up View
Michener Family Photos – On The Way To Gulf Shores
As part of our year-long RV road trip, we made our way all the way out to WA state and traveled around the state and coast areas. We visited the Prosser WA area two times to see our grand kids and also shot a few family sessions.
Here are a few of our favorites from the Michener Family Photo session our at Bills berry farm.
We will be on our way back to Gulf Shors for family beach portraits for the next year 2018. We have a lot of new and fun photography styles and features in store for next year. We have updated all out lens and camera bodies so we can offer the newest styles in portrait photography with creamy backgrounds that give the photos stunning looks you will love.
All new beach portrait packages that all include full high resolution edited images ready to print. You will be able to view and download your images within days and make as many prints as you want with full print rights. In the
In the past, we charged $235 for a session fee and then $499 for a master disc of the edited images. You can now book a full session with us that includes all the images as an all in one price starting at only $399. We have other special packages just for large groups, High school seniors, Bridal and engagement sessions.
All our photo sessions are shot by Edward Morgan when you hire us you get us not some photographer that just got hired sent out to shoot your photos.
On the way to Gulf Shores, we will be taking off from WA on Oct 22nd and making our way back to the Florida Alabama panhandle area with a stop on the MS coast for Christmas. We look forward to providing fantastic Gulf Shores family beach portrait services.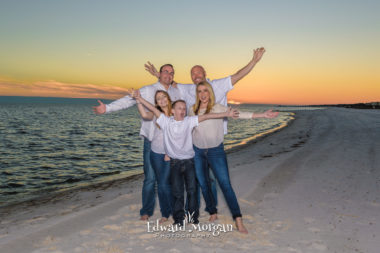 Amazing Fort Morgan family beach portraits at sunset a fun time at the beach for you and your…