Click On Any Photo To See Larger Pop Up View
Fort Morgan Family Beach Portraits At Sunset
Amazing Fort Morgan family beach portraits at sunset a fun time at the beach for you and your family. Professional beach photography services from award-winning portrait photographer Edward Morgan.  We come to you to your beach condo or home rental or we can meet you at a beach access. Each photo packages included all the edited images from your sessions so you can make prints.
High-resolution edited images ready to print in any size you want no extra cost. Packages come with secondary copyrights for making prints. Looking for high-end canvas framed prints or canvas wraps and other prints we do offer them.
Fort Morgan family beach portraits Amazing Sunsets
The best part of Fort Morgan is the beach and amazing sunsets. With the blue-green waters and ocean mist and the smell of the ocean, Fort Morgan is a fantastic place to spend time. My family beach portraits are here for you and your family to photograph your Fort Morgan family beach portraits 7 days a week most of the year. Edward has been a beach photographer for over 15 years shooting family portraits and weddings on the coast.
You won't find a better fort morgan family beach photographer that is as consistent in quality providing outstanding photos that are sharp and in focus with great colors.
Hundreds of Satisfied Customers
Edward started one of the first beach portrait websites on the coast. Over the years we have shot hundreds of families and thousands of individuals.  Averaging 80 to 125 family beach sessions a year. And 100 to 135 weddings a year. Edward is one of the most experienced beach portrait photographers in the united states.  After years of shooting both family portraits and doing full beach weddings setups, we are now only offering family sessions and wedding photography. In the past, we did the full wedding arch setups with ministers, flowers, photography, music and so on.
Your session will include family group photos, Smaller groupings and single person photos as needed. Natural light and flash when needed so you have the best lighting possible for your photos.  bright clear images.
Call and talk with Donna Morgan about booking your Fort Morgan family beach portraits at (352) 232-9112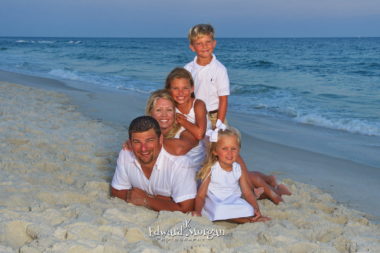 We offer Orange Beach Family Portraits 7 days a week most of the year this includes sunset sessions or…