Click On Any Photo To See Larger Pop Up View
From Apple Orchard To Gulf Shores
Before heading back for next years Gulf Shores family beach photos While in Washington we toured an apple orchard owned by Jim Willard which was extremely amazing and educational. Apples are the most widely grown fruit. The apple trees are large if grown from a seed. It was apple harvesting time,
I was told a 40-acre orchard pardon the pon was small apples to most orchard but to me, it was huge Many newer apple growers are vining their apple trees, This gives the tree more time to concentrate on growing apple than growing taller. Washington apple growers work year round to produce incredible apples. They start pruning the trees in the winter, Watching their blooms in the spring, thinning out the small apples in order for the larger ones to grow.
While on the tour Jim did a sugar/starch test on an apple to check to the sweetness of the apple, Too sweet and the apple has less hold time and would need to be eaten soon. There are 5 main apple-growing regions in Washington. All apples are hand-picked this is to maintain the quality and protects the apple from bruising. Once each apple is hand-picked they go into a large bin and promptly taken to a nearby packing house. There the apple is thoroughly washed, then sorted by size, color and quality and recoated.Some apple growers send them to markets to be sold and some apple growers put into a controlled atmosphere storage which is how we are able to buy apple year round or shipped out of the county for supply & demand. A controlled atmosphere storage is oxygen is replaced by nitrogen and the temperature is held at 32* Most of the storage apples come from Washinton State. The apples being exported must stapped with the warehouse number and a CA symbol. Washington has the highest concentration of storage of any region in the world.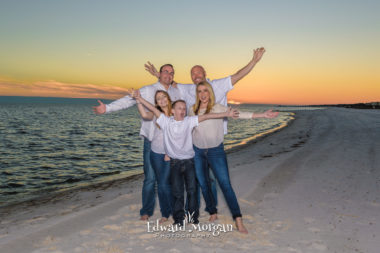 Amazing Fort Morgan family beach portraits at sunset a fun time at the beach for you and your…