Click On Any Photo To See Larger Pop Up View
Perdido Key Family beach portraits FL
Thank you for visiting our Perdido Key, Florida beach photography website, We are Ed and Donna Morgan of myfamilybeachportraits.com  Ed has been a professional beach photographer for many years photographing beach portraits and capturing we offer professional Perdido Key Family Beach Portraits
beach weddings. If you are looking for an amazing family beach photographer you are on the right site, For beach weddings please visit our Perdido Key beach wedding site at
beachweddingshots.com
We can meet your family at your house, condo, vacation rental, Perdido Key State Park, anywhere on the beach or where your imagination takes us.Ed photographs with natural light and specializes in off-camera lighting.We mix our family beach sessions up with traditional,
lifestyle and great fun photography. Ed is an award-winning beach photographer for his family beach portraits &  beach wedding. Most of our clients like to wear the traditional khaki and white, Blue jean & white, Turquoise,
Coordinating pastels and earth tones, Darker cooler pop on the beach but may get hot.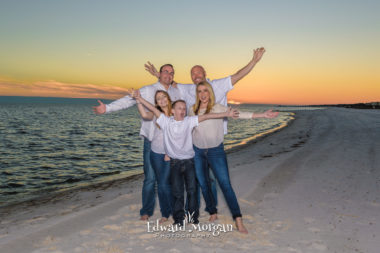 Amazing Fort Morgan family beach portraits at sunset a fun time at the beach for you and your…