Click On Any Photo To See Larger Pop Up View
Pensacola Family Beach Portrait Photographer
 What would be a family vacation to Pensacola, Florida without having your Pensacola family beach portrait photographer take your family beach photos. Don't miss out we are booking for our 2018 family beach session in Pensacola, Perdido Key, Fort Walton Beach and Destin, Florida your  Beach family beach pictures has just gotten better….
Back For 2018
myfamilybeachportraits.com
 is back and we're geared up to take your family beach portraits to a new level!  We're super excited to relocate back to the beach. You may have seen a lot of our work, We are former owners of At the beach portraits and At the beach weddings. We had an amazing journey while we were away and have learned a lot, but most of all we back We love Pensacola  Beach and taking family beach portraits, It's an amazing combination! Ed is a well rounded professional beach photographer, Winning many awards for his beach photography.
He has 15 years of photographing on the beach photographing family beach pictures, photographing high school seniors and capturing breathtaking weddings pictures. He photographs using natural light and advanced off-camera lighting capturing your families personality like no one else can. We don't just capture memories, We capture amazing treasured memories that you will proud of!  Pescocoa  Beach has grown so much while we've been grown so much while we were away and we look forward to adding our business My Family Beach Portraits to its beach family.
Pensacola family beach portrait photographer
We look forward to seeing old friends and meeting new ones.We can't wait to meet your family and capture your images. For booking call, Pensacola family beach portrait photographer My Family Beach Portraits Give us a call at 352-232-9112 to book your portrait session.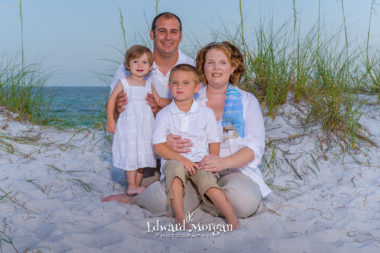 What would be a family vacation to Pensacola, Florida without having your Pensacola family beach portrait photographer take…