Click On Any Photo To See Larger Pop Up View
Orange Beach Family Portraits 7 days a week
We offer Orange Beach Family Portraits 7 days a week most of the year this includes sunset sessions or afternoon sessions.
Our sunset sessions feature the best time of day also called golden hour. We start 45 minutes to an hour before sunset so as the sun is setting we will be shooting in a golden soft light and you can feel it start to cool down. It is also easier on your eyes not as bright out.
Our afternoon session is great for very active families that want a bright sunny look and want more running on the beach photos. It can be very hot out for an afternoon session and very bright from the sun, You will generally see a more blue sky look to the photos that time of day. We shoot our afternoon sessions around 2 to 4PM. This time of day you will see a lot more people on the beach in the background of your photos unless you are at a beach rental house out in Fort Morgan beach.
Our Orange Beach Family Portraits are edited to perfection and posted on-line for you to download and make pints from we include print rights paperwork. You can print any size photo you wish from a 4×6 to a 16×20 on up to a 20×30 or 24×36 and larger. You can also order prints from us including framed canvas wall portraits ready to hang or gallery wrap canvas prints. We also offer a very nice beach portrait album book.
Booking with us is as easy as calling (352) 232-9112 and talking with Donna she handles all the bookings and helps Ed your photographer at the session to help with posing and kids. Donna will check your date to see if we're still open and get you booked and locked into your date.
We love shooting Orange Beach Family Portraits the beach is just amazing and the sunsets are so relaxing and its fun to see the sky colors change as the sun is setting and feel the cool breeze and smell the ocean mist.  After taking a few years off and doing some traveling we have moved back to the Gulf Shores, Orange Beach area to be back by the beach. On days off when we have one we like to go surf fishing and eating fresh seafood.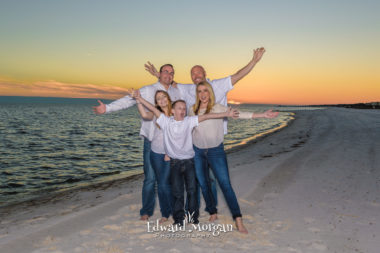 Amazing Fort Morgan family beach portraits at sunset a fun time at the beach for you and your…