Click On Any Photo To See Larger Pop Up View
Orange Beach Family Photography
In Orange Beach, Ed Morgan of myfamilybeachportraits.com is your premier Orange Beach Family Photography fine art family beach photography company. You never have to worry about who will show up to take your family beach portraits. Your Orange Beach family portraits are a family heirloom.
Ed Morgan has specialized in beach photography for 15 or more years Utilizing natural lighting and specializing in advance off-camera lighting. We are now booking for our 2018 orange beach family sessions. We photograph in Orange Beach, Gulf Shores, Fort Morgan, Alabama and Perdido Key, Florida. We break our family beach sessions up with traditional posing, Lifestyle, and fun! Coordinating Your clothes for your beach session, Most of our Orange Beach family beach clients wear the traditional khaki and white, pastels and earth-tones, as well as darker colors or Denim , The darker colors are great for October thru March not to say you can't choose to wear them but remember when choosing your clothes for your orange Beach family beach pictures  in the spring and summer it is the beach and it can be hot & the humidity may be high.
Donna will call the day of your session to discuss any weather issues and confirm time and location. We can photograph your family portraits at your condo, Beach vacation rental, park the locations are endless in Orange Beach, Alabama. At My family beach portraits, we make your photography memories and treasure our time to photograph your family. We have photographed Many Hundreds of families over the years, We love our returning clients and look forward to meeting and photographing new ones. Thank you for visiting our website and allowing us to show you our Orange Beach Family Photography work.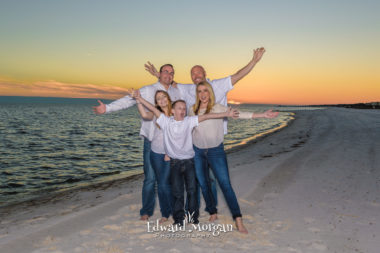 Amazing Fort Morgan family beach portraits at sunset a fun time at the beach for you and your…