Click On Any Photo To See Larger Pop Up View
Orange Beach Family Beach Photographer
If you are looking for an Orange Beach Family Beach Photographer for your family photos we are the ones to call. We have shot hundreds of family beach photos up and down the coast.
We shoot all our own photos and do not hire our other photographers for the job, Your photographer will be Ed Morgan. Ed is one of the most experienced beach photographers on the coast as you can see from the photos.
Ed uses nothing buy professional camera equipment for your family session and is a master at editing so your images will pop to life with great detail and color. We also offer special editing to turn your favorite images into a work of art. As an Orange Beach Family Beach Photographer Ed uses lens that can create that special look of background blur when needed its called bokeh the out of focus areas behind the subject.  For 2018 we now have a new lens we are using just for this that is great for headshots,  waste up shots and fantastic for photos of kids and babies or toddlers.
When looking for your Orange Beach Family Beach Photographer things to look for are. How long has the person been shooting on the beach and can you see lots of photos from different photo session they have shot, Are the photos consistent from session to session, What equipment are they using and do they have backup equipment with them as things do break and working on the beach is hard on camera gear.
In the end, you will find many so-called beach photographers do not have much experience working on the beach, Do not have backup equipment and are not using professional gear or lens. Many of them do not even know how to edit images very well. And they do not know how to get a great image of families and kids on the beach.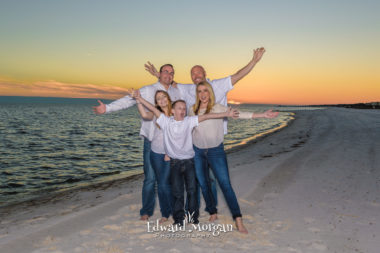 Amazing Fort Morgan family beach portraits at sunset a fun time at the beach for you and your…