Click On Any Photo To See Larger Pop Up View
Nikon D850 Review Do You Need This Many MPs
The Nikon D850 is Nikon's new 45.7 megapixels camera with all the bells and whistles you could ever need. But do you really need or want a 45.7 megapixel camera for what you shoot and print?
Yes the Nikon D850 is the new rock star camera of all cameras. Great image quality, Fast focus fantastic low light focus and more. But what does having a 45.7 megapixel mean to your real photography everyday work you shoot. Will the New D850 make you a better photographer no. Will the D850 produce images much better the other Nikon cameras no not really, Will the new Nikon D850 produce better-looking prints well no not really unless you are printing super large wall murals and most people are not doing that. Will the D850 give you better focus well not really if you like to shoot using 1.4 and 1.8 and 2.8 lens and you shoot wide open as with this many megapixels it makes the camera harder to focus so you will end up with more out of focus images then before vs other lower megapixel cameras.
To use the new Nikon D850 you will need to buy more cards to shoot on as the large 45.7 megapixel RAW files it creates are huge and take up a lot of space. Then you will need to buy a lot more hard drives to store your images on as the files will eat up your hard drive space in no time and this will be ongoing year after year costing you more and more money all the time.
Editing D850 RAW files this big is going to be very slow in Lightroom and Photoshop and every other editing program so your workflow is going to go much slower using the 45.7 megapixel Nikon D850. This includes loading images off your camera card into your computer, then slower to load into a program like Lightroom, then slow to edit each image and then slower to export the edited image to jpgs. Then slower to back up all the images so all this equals slow slow slow editing workflow. Is it worth it?
What will you gain by using the D850 camera body?
Lets say you are a wedding and portrait photographer and sell prints to your customers all the time will the D850 help you in any way VS say a 24MP D750 camera or a D5 or D4 and so on. The real answer will be not really, in fact, it will cost you more money to shoot the Nikon D850 and take you more time to edit and work with the images.
What about print quality?
Yes what about it do you use a photo lab for most all of your printing? what is the size prints you sell to customers the most. With everyone nowadays wanting the digital files print sales for photographers has dropped over the years and the most common size print people think is a large print is a 16×20 or a 20×30 print or gallery wrap. Ok well a 12MP camera can make all of these print sizes without any problems and the prints look amazing and this is with cropping in as well.
How long have you been a photographer and why that matters
Many newer photographers that have been only shooting for 2 to 10 years cannot remember that us photographers that have been shooting digital from day one going back to 2MP cameras have been making and selling prints from digital files for our customers for years. If the prints did not look good we would have never been able to sell them and if that the case digital cameras would have never evolved to what they are today.
Some examples by the time we hit 6MP cameras like the Nikon  D100 and D70 and D40 you could print a 16×20 print that looked amazing very full of detail and sharp we had no problem selling them to customers at all. Then we moved up to 8mp then 10mp and then when the Nikon D3 and D700 arrived at 12MP most photographers thought that was the holey grail or the best you every need. I used the D3 and D700 camera for years and we sold every print size you can think of including have many billboard made from our images. we printed hundreds of 24×36 prints from the D700 12MP files selling them also a lot of metal prints and wood prints. Never not once have we had a customer say it looks like the resolution was not good enough as the prints looked amazing.
The difference from a 6MP 16×20 to a 12MP 16×20 was not all that much as the 6MP 16×20 was quite good. What you would see is better color due to the newer cameras having better color and cleaner high iso less noise in the prints also do to the better cameras taking cleaner images t0 start with.
Now going from a 12MP to a 20 or 24MP camera for the same print sizes you see almost no difference if any at all as with the 12MP size you could already print amazing looking images that are very clean and full of details and sharp. But now you have almost two times the amount of MP so you can even print larger like in the 40×60 range with no problem if you can find a place to print them for you and you can find a customer that wants to order and pay you for that print size.
Looking at the largest average print size people sell from weddings and portraits a 16 to 24mp camera can handle all the print sizes with no problem and the cost to use the camera is less than using a camera like the Nikon D850 at  45.7 megapixels that will eat away at your wallet every time you use it and slow down your workflow.
Who is the Nikon D850 for?
In reality, a very small group of photographers who do print very large images like for some commercial agency photographers, Some landscape photographers who print and sell full wall murals. But your average landscape photographers will not need this many MPs for anything. At this time that is all, I can think of. Most large format inkjet printers use RIP software to make any size print you want larger MPs is not needed. Also, many print places will not even take in that large of a file or if they do they reduce the file before printing so it does not crash the system.
Would you want to shoot a wedding and bring home 1500 large 45.7 megapixel image to edit and store? I know I would not – just to sell maybe one 16×20 or 24×36 print and lots of small 4×6, 5×7,  and a few 8x10s. You can do that with a 12mp or 20 to 254mp camera already all day long.
Or for portraits why would you ever need 45.7 megapixels for shooting people portraits when you can print every size you ever sell very easy with a 20 to 24MP camera and can crop in as much you need and the cost to use it is less. 
Look at cameras like the Nikon flagship D5 why is it not 47MP because it does not need to be for anything most every user will ever print.
So to wrap this up  I see so many people running out and ordering a Nikon D850 and many of them are newer photographers that have not even made many large prints yet at all. They are ordering a camera thinking it is going to make them a better photographer when it is not. If they can edit and get great prints now from a 12 to 24 MP camera then they are not going to get anything better from the Nikon D850. When it comes down to it if you take the same photo with a 6, 12, 20, 24 and 47MP camera and print them all at the same size like a 16×20 and place them side by side on a table and mix them up you will not be able to tell one from the other and none of your customers will either so what are you paying for when you get more MPs you don't need.
Whats next I hope to see a new Nikon D750 replacement out soon maybe a D760 with a new version of a 20 to 24MP chip in it and the features found on the newer D500 like the focus joystick and flip out display and touchscreen. That will be my next camera or a New Nikon mirrorless camera I would love to have that next. I am also looking at the Fuji X-T2 as a second camera but they have no FF camera.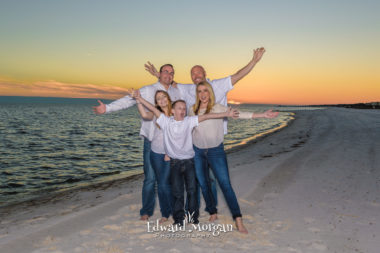 Amazing Fort Morgan family beach portraits at sunset a fun time at the beach for you and your…