Click On Any Photo To See Larger Pop Up View
Jeremy Sanders By Gulf Shores Family Photographer
Breaking into the new year with photos of Jeremy Sanders By Gulf Shores Family Photographer in Alabama.
A quick mini session of Jeremy at a park across the street from the beach it was very cold out but we got it done. This is part of our non-beach family portrait sessions we offer on our My Family Photography website. Family and children portrait photography at your location or at a park or any location we come to you.
Happy New Year From Gulf Shores Family Photographer Ed Morgan
As this new year starts we have a lot in store for 2018 including upgraded camera equipment and packages. We will be shooting a lot now with two cameras each camera will have a different lens on it. By doing this we can have one lens for the family group photos and another special lens just for the single and two-person portraits. With bokeh background, soft creamy blur to images has become popular we will be shooting for that style for the smaller and single photo shots. Sharp image with creamy backgrounds most shot using natural light.
Natural Light and Off-Camera Flash
After as many years we have been a Gulf Shores Family Photographer on the Alabama coast one thing we have learned is about lighting up our subject. Some days we can use natural sunlight and some days we need to use flash. On other days we can do a little of both. We so so many newer photographers shooting with no flash but the problem is that only works sometimes. The rest of the time if you do not use flash you do not get good quality images. Anyone can buy a camera and walk out on the beach and shoot natural light photos but very few will end up with good results.
We use a mix of natural light and flash photography so we get great images all the time. Not just sometimes. Bright clear in focus images that will print great for large portraits. If you look at many of the image other photographers posts you can see they are very soft not in focus. A soft looking image will not print well the larger you make a print the most it will look bad.
When looking for a Gulf Shores Family Photographer why not hire the best. We have been an innovator in beach portrait photography copied by others.
All our packages in 2018 now include all the edited images from each photo session. You will be able to download the images within days after your session. Your gallery will include two versions the large full-size image for making prints. And a smaller website size 1200 pix for posting on social media or websites. Each package comes with print rights so you can make as many prints as you like in any size you want. For more higher end prints we will still offer framed canvas and other mounted prints ready to hang. Other items include gallery wraps and family beach portrait albums.
See more sample family beach portrait image on our sample page here. It may take a few second for the images to load its worth the wait.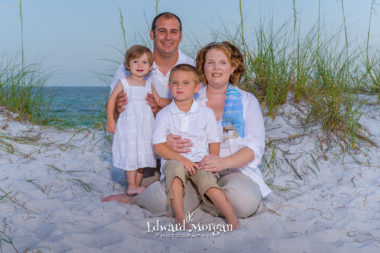 What would be a family vacation to Pensacola, Florida without having your Pensacola family beach portrait photographer take…