Click On Any Photo To See Larger Pop Up View
Guthridge Gulf Shores Family Beach Portraits well not at the beach this time but at an area by some train tracks but not on them.
A fantastic family session shot in WA state in the town of Prosser. Two amazing little girls and their parents what a fun time it was photographing them on this fall day.
Each year will be offering special fall photos, not on the beach and we are offering non-beach portraits year round at different locations around town or at your home. The non beach portrait session will feature the look for the area we shoot in great for family photos all year long.
For this session, we found a great location by some train tracks that had large rocks to sit on a RR wood block and lots of dried up grass and weeds to make for a wonderful look to the photos. We offer Gulf Shores family photos on the beach 7 days a week year round and now our other inland location sessions as well.
We have now left WA state and of the time of writing this, we are now in Palm Springs CA staying in an RV park for two weeks. After the two weeks, we will be heading for Quartzsite AZ for a few days and then we start making our way to the MS coast for most of December and the holidays. Then after Christmass, its back to the Gulf Shores AL area to get ready for 2018. We have a lot of new plans for 2018 we are working on as we travel.
Hope to see you soon.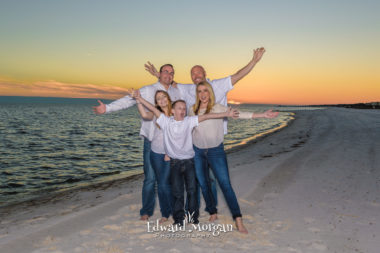 Amazing Fort Morgan family beach portraits at sunset a fun time at the beach for you and your…