Click On Any Photo To See Larger Pop Up View
Gulf Shores Children Photography
Gulf Shores Children Photography service for local and destination clients. Fine art classic Children and toddler portraits advanced photo editing with tints and textures to create a child portrait that is a must for framing and wall hanging.
We shoot on the beach most of the time but for child portraits, some times its best to shoot in another location like in a wooded forest area, a farm if available, open field with flowers or brush, a Cotton field or on the beach as well. Your child's portrait is something very special and we want to create a magical image that shows the innocence and beauty of your loving child or children.
Each session included all the edited photos in a ready to print format and comes with print rights for making prints. We do offer too special edit images for framed wall portraits taking the image to the next level with tinting, background effects, face, eye and skin editing and more.
We use a special lens just for this kind of portrait that creates the extra Bokeh background blur in the photos and background separation. Photo sessions are available most of the year and are booked on a first come basis so if you are from out of town its best to book as soon as you can to lock in your date so we can photograph your child when you are here.
Go to our Children and toddler Photography webpage here to see current rates and sample images we are the go-to photographer for all your Gulf Shores Children Photography needs. With over 27 years in the business, your photographer Ed Morgan is well skilled to capture and edit your child's photos.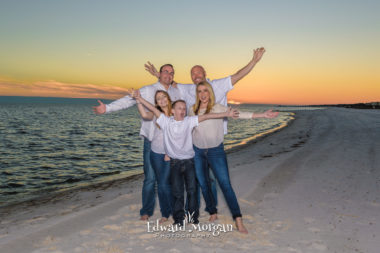 Amazing Fort Morgan family beach portraits at sunset a fun time at the beach for you and your…