Click On Any Photo To See Larger Pop Up View
Fort Morgan Alabama Beach Portraits
If vacationing in Ft. Morgan, Alabama Myfamilybeachportraits.com is your ultimate beach photographer for your Fort Morgan Alabama Beach Portraits. We will come to your beach rental house and take your family portraits on the beach or we can meet you at the Fort, It makes for an amazing backdrop for your family portraits. We also photograph high school Seniors, Bridal sessions, and engagement sessions there as well.
Ed is an award-winning photographer for his family beach and wedding portraits. Several images that he has won 1st place awards for were taken at the fort at Fort Morgan. We also photograph in Gulf Shores and Orange Beach . If you are engaged and planning a destination wedding in Ft. Morgan, Gulf Shores or Orange Beach, Alabama you have to check out of the website for wedding photography beachweddingshots.com
Ed photographs with natural light and specializes in off-camera lighting and teaching off camera lighting to other photographers. Ed's been a photographer for 27 years, We spent 14 years making incredible memories daily for families on the beach. Give Donna a call to book your Fort Morgan Family Beach portraits and Fort Morgan Alabama Beach Portraits.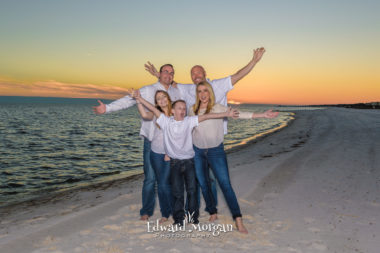 Amazing Fort Morgan family beach portraits at sunset a fun time at the beach for you and your…