Click On Any Photo To See Larger Pop Up View
How To Dress For Your Gulf Shores Family Beach Portraits
We get asked all the time How should we Dress For our Gulf Shores Family Beach Portraits so we are posting this quick guide to give you some examples.
The traditional dress colors are white shirts and khaki pants or tan dress but this also can make you blend into the beach as the Gulf Shores beach is white sand so we loving seeing other colors being used like bold colors or another popular outfit is blue jeans and white shirts, Black also works well as does Turquoise it stands out well on the beach.
A few colors to stay away from are bright colors like bright red or yellow they can be overwhelming looking with the white sand and blue-green water and sky colors.
Fun Colors For A Fun Time
You can wear anything you want it is your family beach photo session this post is only some suggestions with a few photo samples to show each look to see.
Things to maybe expect on the beach can be wind. We have a wind or breeze blowing on most days on the beach and based on the direction of the wind blowing we will position you so the wind is blowing your hair back to keep it out of your face. In the summer months, it can be very hot out so expect to get a little sweety from the heat and humidity.  Water mist, The ocean can be splashing waves and be creating a water mist you may feel a little bit of. Overall at sunset on the beach you will have a great time and enjoy the feeling as the sun sets and the air cools down as the sky lights up with its amazing colors.
Below are a few sample photos of a few different colors looks of possible ways to dress for your Gulf Shores beach session.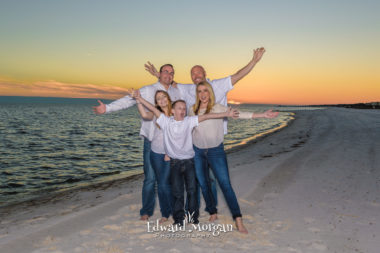 Amazing Fort Morgan family beach portraits at sunset a fun time at the beach for you and your…