Click On Any Photo To See Larger Pop Up View
Family Beach Photographer In Gulf Shores Alabama
Ed Morgan is a Family Beach Photographer In Gulf Shores Alabama and has photographed on Gulf Shores beach for many years. It's not just a hobby but his passion! Gulf Shores, Al. in Baldwin County has some of the most beautiful white beaches in the country for photographing family beach pictures and photographing beach weddings.
Ed has received many awards for his family beach pictures as well as his unique talents as a beach wedding photographer. Beach photography is second nature to Ed Morgan of My family beach portraits and Beach wedding Shots. He has full comprehension on how to use his professional camera equipment. Ed photographs natural light photography as well as advanced off-camera lighting.
When choosing your Family Beach Photographer In Gulf Shores Alabama Ed Morgan is the right beach photographer for you, He can capture your family like no other Gulf Shores beach photographer can. He will photograph your Gulf Shores family beach pictures with a mix of Traditional, fun and spontaneous. Your traditional family beach portrait hanging on your wall will be a treasured keepsake for your family. Your family beach pictures in Gulf Shores, Al will be posted in a gallery for your family to view within 24-48 hours after your family beach session for viewing and to download, You will also receive a secondary copyrights form to print your beautiful family beach pictures. You will receive two files, One will be web size pictures that you can post on social media, text and email the other file is our high-resolution pictures that the quality is so astounding that you can pint a billboard from it.
We also offer special edit images that take the normal edit of your image to a new level by turning your image into a fine art image great for large framed wall portrait like a 16×20, 20×02, 24×36 and many other sizes we offer. So for the best Family Beach Photographer In Gulf Shores, Alabama call My Family Beach Portraits and set up a time to have your family portraits made. We have sunset and some afternoon session times available. Afternoon sessions are shot a little different from our Sunset session as the sun will be much brighter out and you will not have the sunset glow.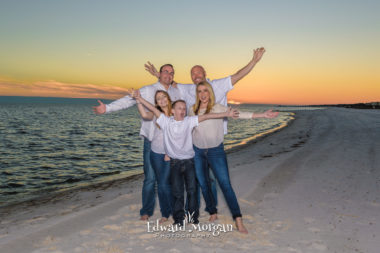 Amazing Fort Morgan family beach portraits at sunset a fun time at the beach for you and your…