Click On Any Photo To See Larger Pop Up View
Orange Beach Family Beach Portraits
More and more families are planning their family vacation, weekend and day trips to the Alabama Coast and wants Orange Beach family beach portraits. Several of our family beach families had never visited Alabama's beach white sandy beach and emerald water, They were quite surprised with what the Alabama Coast had to offer.
At the Warft they found unique shopping, Some of the best restaurants, A ride on the Ferris wheel, A walk on the boardwalk and marina and Mom fantasizing about staying at the Wind Drift condo on their next family vacation to the Alabama coast, while Dad played a couple rounds of golf.
After a great day and wonderful seafood dinner, they went to the Anthem theatre for a concert. The next day they had their Orange beach family beach portraits booked with myfamilybeachportraits.com  We like to photograph family photos at Romar Beach in Orange Beach. There are several beach access available like at the Gulf State Park. Cotton Bayou at Highway 161 & 182. 2nd street access as well as the 5th street, 6th street and 13th street beach access in Gulf Shores. Mom and the girls went on a dolphin watch cruise while Dad and the boys went deep sea fishing on one of the charter boats in Orange Beach. And They couldn't believe how many local restaurants Orange Beach, Gulf Shores, and Fort Morgan had to offer as well as the chain restaurants. They were excited to visit the Indian and Sea Museum and learn about the area & see artifacts.
Having Fun AT The Beach
What's a trip to Orange Beach without taking a trip to adventure Island The children loved the pirate theme. They played goofy golf, Rode go-carts, played in the bumper boats, played laser tag and was surprised to see the volcano erupt! The next day their high-resolution Orange Beach family beach portraits were posted to their online gallery where they were able to share their web size pictures with their friends through Facebook, Twitter, Linkedin, Google Plus, Pinterest, Instagram and youtube, StumbleUpon, blogger, Digg, Delicious and MySpace, text, and email.
The next day was family fun day at the beach and lunch and shopping at the local stores and more shopping at the Tanger Outlet. Their last day was was a fun-filled day at the beach in front of their vacation rental house, condo or hotel and a surprise trip to OWA Amusement Park. Where they rode rides, listen to great music, took advantage of premier shopping and dining. Dad and the boys went next door to the sports tourism complex which featured 16 state of the art outdoor fields and an indoor events center. They talked and were planning their 2018 family beach vacation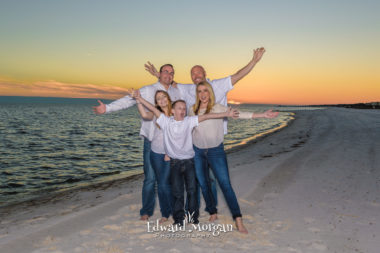 Amazing Fort Morgan family beach portraits at sunset a fun time at the beach for you and your…