Click On Any Photo To See Larger Pop Up View
Gulf Shores Family Beach Photographer
Photographing as a Gulf Shores Family Beach Photographer can be a challenge, Beach photographers have to deal with wind, rain, and every changing sun. Professional photographers will try to place you where the wind is blowing your hair back and light is hitting your face.
It is not always possible for the sun to light up your face and they will take advantage of advanced off-camera lighting. For the Gulf Shores photographers' that do not understand lighting, Your family photo will be dark and dingy or you will definitely have a face full of hair.
When you are choosing your clothing for your family photos it's nice to be color coordinated. The traditional khaki and white makes for elegant wall portraits. Try to stay away from bold crazy prints and colors that will wash you out. Pastel and earth tone colors with denim jeans or shorts look great on the beach in the spring and summer.Little girls and Moms look amazing in contracting sundresses.
Photos On The Beach Gulf Shores
Darker colors look amazing against the beautiful white sand but remember you are at the beach and it does get hot and humid. Darker color clothes are better for the fall and winner. Try to stay away from dated clothing, Most of all dress as comfortable as you can. Your Gulf Shores Family Beach Photographer will be taking many photos and different group and single persion photos.
Gulf Shores, Orange Beach and Fort Morgan have 4 months of hot weather which is the end of May through the end of September with the cooler sean lasting only 3 months, From December to March. Which is makes our area a wonderful destination for family vacations, days trips, weekend getaways and beach weddings. The sunsets and skys in the fall are the most amazing. Families that have never come to the beach or Brides getting married in the spring and summer are under the illusion that the sun will be setting right behind them.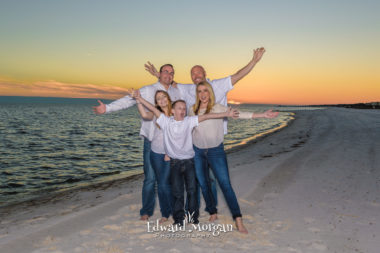 Amazing Fort Morgan family beach portraits at sunset a fun time at the beach for you and your…